Any woman over 25 understands the importance of caring for her skin to reduce the first signs of ageing – no doubt her bathroom cabinet is filled with serums, retinols, exfoliants, moisturisers and sunscreens to keep her face looking fresh and youthful.
But the face isn't the first area of your body to start showing your age!
The décolletage and breast tissue ages 3 years faster than any other part of your body!
This means that if you haven't started already (and we're betting you haven't) you need to start caring for this area immediately as it's already older than your face!
What causes this accelerated aging process?
Sun Exposure – The skin around your chest and neck is EXTREMELY thin and is constantly exposed to sun damage. It contains less sebaceous glands and limited melanocytes (cells that give colour to your skin and protect it from UV rays) so any UV exposure wreaks maximum havoc on that area.décolletage
The weight of the Bust – The weight of a woman's bust applies daily pressure to the delicate skin around the décolletage, accelerating sagging, wrinkled skin.
Research from the University of Portsmouth shows that even when you're walking, breasts move around up to 33% per cent from their standing position.
Without a properly fitting bra to alleviate the pressure on the skin, the weight of the bust applies a daily stretching, pulling pressure that further damages the thin skin and creates both fine lines, stretch marks and creases to the décolletage.
How Can We Reverse these early signs and protect our skin?
Never SKIP the SPF on your décolletage
To combat the higher risk of UV damage, be sure to wear broad spectrum sunscreen when your neck or chest is uncovered. This is a must even in cloudy weather – those rays will still be damaging you.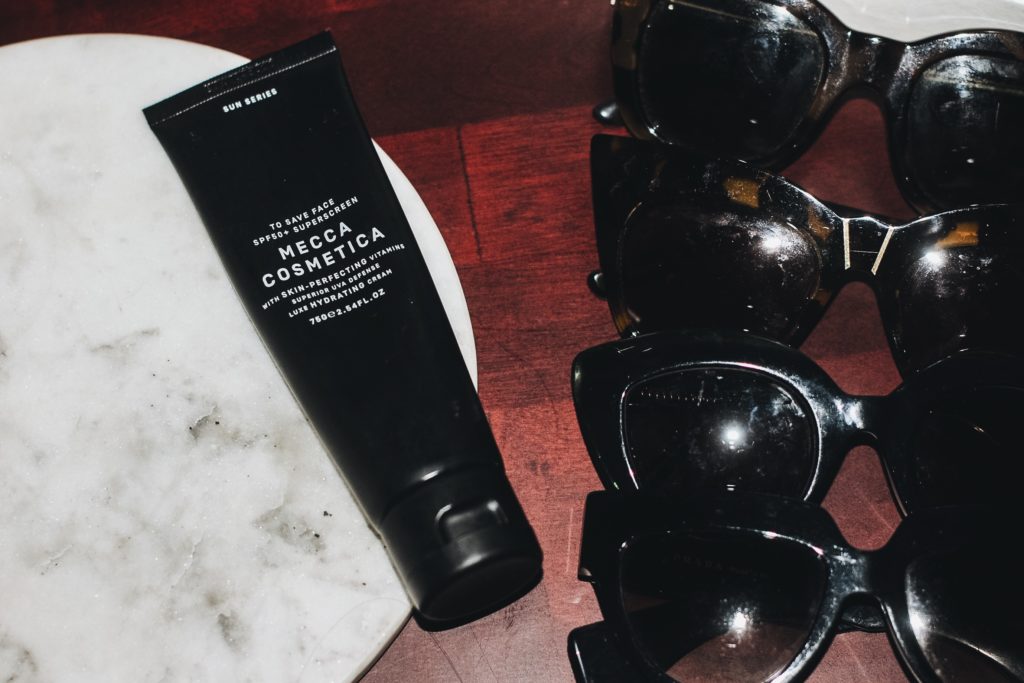 Get Fitted & Invest in a QUALITY Bra
Start allocating some of that beauty budget to your lingerie drawer – no point having a dewy fresh face and a décolletage marred with fine lines and wrinkles.
Simone Pérèle Corsetieres are expertly trained in body shape theory and lingerie construction, so they will be able to pick up all the nuances of your unique shape to find the bra that will minimise the signs and ageing immediately. (Think of them as beauty therapists for your bust area)
They'll be looking for:
• The support coming from the back and sides of the bra to hold the weight of the bra
• The space between the straps and your shoulders
• The space between your back and the bra clips
• Where the bra sits on the breast tissue
• The top of the cups are sitting comfortably on the bust without gaping or digging in
• The centre 'gore' sitting flush against your chest
A quality bra is like the "Le Mer" Moisturizer of the lingerie world. Not only will it relieve the pressure of your bust but your posture will improve, your silhouette will look more balanced and you'll feel fantastic!
SHOP MUSE PUSH UP TRIANGLE BRA
Invest in Specific Products for Your Décolletage
The skin of the décolletage has some unique attributes that require special care. It is a high histamine response area, and thus red flushing can occur, so it is important to choose a skin care product that is specifically for this, instead of simply pulling your face products down over neck and décolletage.
Most women think skincare stops at the neck, however the quality of most daily body lotions is insufficient to treat or delay signs of ageing on the décolletage.
Including active ingredients at therapeutic concentrations is expensive and these products are – (Not sure what this means). IF you're serious about treating your chest, shop for décolletage-specific skincare.
To apply these products effectively, tilt your head back, relax your upper body, and open and close your mouth— jetting your jaw forward and tensing it as you do it. The muscles on the neck are independent from the skin, unlike the face where it's all glued together. Apply the neck crème first with vigorous upward strokes using your entire palm, and then do the exercise. Repeat the exercise 20 times each night to get great results!"
Water, Water, Water
"Overtime, gravity, UV damage, stress and age lead to visible ageing and loss of skin's support structure at a rapid pace in the neck and décolleté.
The loss of collagen leads to sagging and visible horizontal rings around the neck, crepe like texture and creases in the décolleté area, along with visible discolouration of the skin. Our ability to retain water also diminishes – meaning more wrinkles.
Fight the ageing process by using a moisture-retaining cream and keep hydrated; if you're dehydrated on the inside, the skin on the outside will be too. Keep a 2litre bottle of water on your desk and aim to finish it every day.
It's Not Too Late
The décolletage is like the 'Achilles heel' of anti-ageing routines; If you don't prioritise caring for that exceptionally delicate skin, the most feminine, flattering part of any woman's body quickly becomes an immediate reflection of age, holidays in Byron Bay doused in coconut oil and a lifetime of promises to 'drink more water'.